New housing development promises a tranquil location in bustling lake community.
Lake life, great places to eat, shop and play, topped off with Iowa hospitality—there are obvious reasons why the Okoboji and Spirit Lake area has been growing rapidly. The close-knit, active community draws in thousands each year with such a magnetic force that many pursue living there on a permanent basis. However, there is one small caveat… the number of interested buyers is higher than the number of available homes.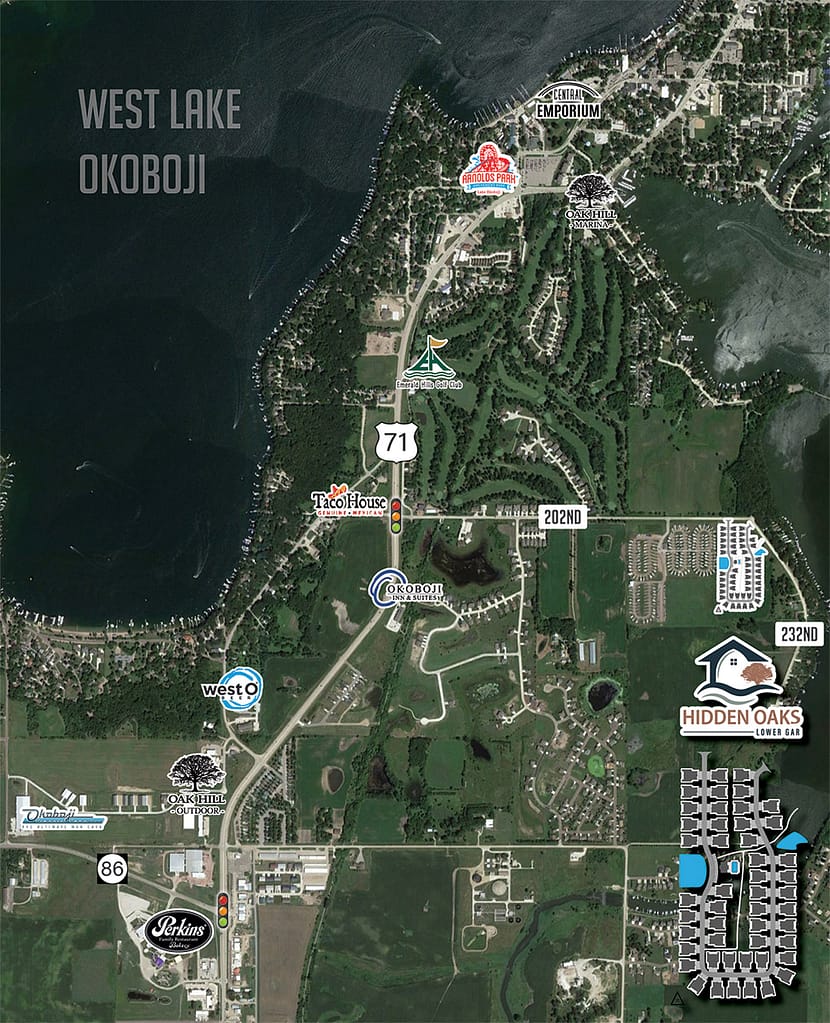 Fortunately, there are investors who appreciate all the Lakes area has to offer and found a sweet spot to build a community of homes called Hidden Oaks.
"It's tucked away in a quiet area, close to all the restaurants, Arnolds Park, the lake and golf courses, and away from the busyness of Highway 71, yet close enough to enjoy all the Lakes area has to offer," shares Seth Helinga with EXP Realty. "There aren't any short-term rentals in the area either, which is a big draw for people who want a quiet place to live and relax."
Hidden Oaks will boast many comforts of a gated community, with a pool and clubhouse for activities and workout facilities, along with maintenance services from the Homeowners' Association.
"These homes are a great fit for individuals who don't want the hassle of yard maintenance or pushing snow," shares Seth. "The HOA will take care of mowing, landscaping and all the winter headache of snow."
Building of the new community began in October 2022, and contracted builder Cory Groen with Groen Construction shares, "The first phase of home building will be completed this fall. This phase includes 10 three-bedroom duplexes. Eventually, there will be 48 duplex builds or 96 homes."
Another draw to the new community is each home can be customized with its own look and feel. Three different exterior options are available featuring board and batten siding with cedar and stone accents. From there, the owner will also have three interior options to choose from, including rustic, cottage or farmhouse style.
"The quicker a new homeowner becomes part of the Hidden Oaks community, the better," states Cory. "That will ensure as we build, it will be a home of their style."
Regardless of which options an owner chooses, they can rest assured their new home will be built with exceptional quality finishes, including Malarky shingles, board and batten siding and Bayer Built interior and exterior doors. The bungalows also have 9′ ceilings, a choice of quartz or granite tops in the kitchen, a tile backsplash, onyx vanity tops and a primary suite shower. If desired, there is also an option for in-floor heat and/or a gas fireplace to buyers.
"When it comes to building materials, we choose to partner with CFE Lumber," states Cory. "They always carry quality options for home builders. But more than that, we know we can depend on them to carry the materials we need, when we need them. The last few years have been a challenge with supply chain issues, but CFE has been able to navigate those issues through thoughtful planning. You can't get that kind of service everywhere."
CFE Lumber is proud to serve their local communities and appreciate the support they have received during this project. If the Hidden Oaks community sounds like the perfect place to put your feet up and enjoy the lake life, give Seth a call and he will find you a spot under the oaks. <<