We've had many discussions about if and when our snow melt has gotten into the soil profile.  We have weather monitoring stations within our territory that sheds a little light on the details. One is a few miles northeast of Doon, the weather & soil data is shown below. You can see we did indeed get some moisture into the soil at least down below the 12" deep sensor on March 25th or so with more the 1st week of April.  Not much has made it down to the 24" sensor yet so we will still need some spring-early summer rains but at least we have improved from how dry we went into the winter.  These sensors are in a real field situation and this field was beans in 2022.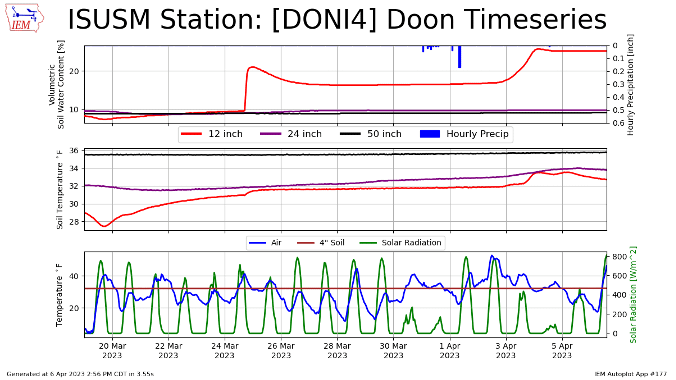 We also have a station along highway 59 between Sibley & Ocheyedan.  It looks similar but this area has had more moisture and does have moisture showing up in the deeper sensors at about the same timeframes. There does seem to be something a bit odd showing a spike in the 50" moisture level that we don't understand in early April.
https://mesonet.agron.iastate.edu/agclimate/smts.php?station=SBEI4&opt=1&year1=2023&month1=3&day1=19&hour1=0&year2=2023&month2=4&day2=6&hour2=14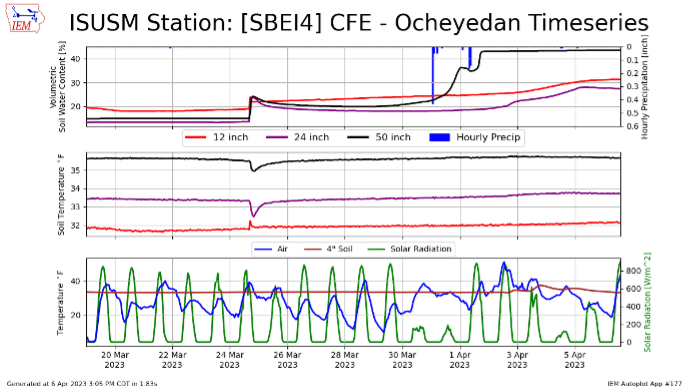 These can be tracked live any time you wish by going to the CFE website, Agronomy tab, "ISU Soil Moisture" links on the page. You will note there is a lot of different weather details for each station you can browse and there are a lot of other stations located around Iowa you can track.